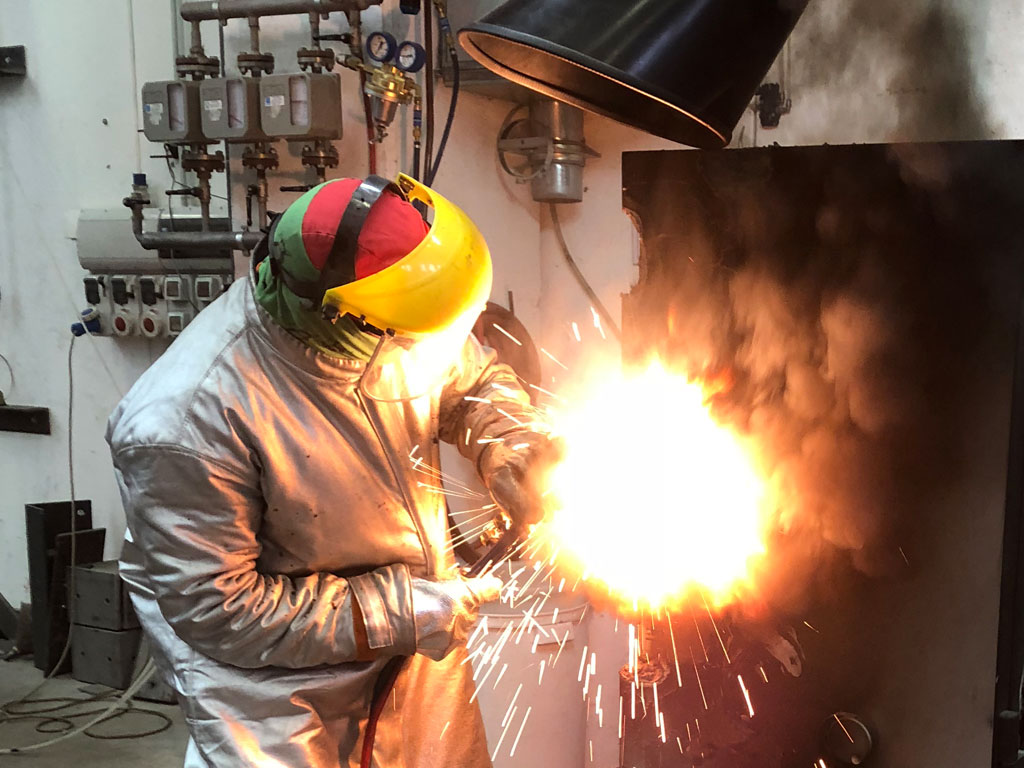 Caption:
On the test days, a total of four partial access tests and ten full access tests with different tool com-binations were performed.
Photo:
ECB
ECB•S Comparison Test: Highest Quality of Laboratories
Successful Training Week – ECB Cooperation Laboratories Equivalent To Other Market Participants
Frankfurt/M. – March 2018. At the end of last month, the first comparative test of the ECB cooperation laboratories Istituto Giordano S.p.A. and Applus+ LGAI Technological Center took place at the Italian test laboratory Istituto Giordano. The test covered several free-standing safes. The aim of the test week was to ensure the comparability of the ECB laboratories with one another and, in addition, to harmonise test philosophies and processes.

First of all, every test lab had independently developed a test plan. Before the actual tests, the two test plans were discussed in detail and the different attack strategies were compared. On the test days, a total of six partial access tests and ten full access tests with different tool combinations were performed. The safes were put to the test with manual tools such as crowbars and sledgehammers, electric tools such as cutters and demolition hammers, and thermal tools.


"The test week with our two cooperation laboratories has clearly shown that the work of Applus+ and IG regarding the planning, implementation and follow-up of a test is comparable and qualitatively at one level.", says Dirk Etheber from the European Certification Body. "There is always room for improvement, so we used our final report to further fine tune consistency between both labs."


The results of the test week speak for themselves. The test performances of Istituto Giordano and Applus+ are in all respects equivalent to tests performed by EFSG-associated laboratories. The test and evaluation methods fully reflect the current state of the art and due to the constant exchange of know-how, the ECB laboratories always come to comparable and consequently reliable results in their tests.


Another test week of the cooperation partners is already planned. In principle, the comparative tests are also open to other market participants.
Text:
2.017 characters incl. spaces
As of:
21 March 2018